Why active naturists? Often, even for people who are open to nudity, nudism is restricted just to lying on a beach or even only hanging out at home, for so called closeted nudists. Of course, it is great to just lie down
and enjoy the sun, take off that useless swimwear and get an all-over tan…
But if you are full of energy, you may discover that not only relaxation on a beach is fuller without clothes, but many activities, like sports and outdoors, are much more fun and comfortable when done clothes-free! Here, we give you just some ideas for naturist activities, providing our favorite examples from open sources online (you can see our personal accounts in the blog).
While 'liberating' may be your first idea when you think of getting naked outdoors, many people also enjoy the feeling of being a part of nature, which they get at full without clothes. The word 'naturism' implies feeling comfortable – natural – in your own skin, as well as experiencing that connection with nature.
Beach is probably the most common place for naturist recreation, and that's where most people are likely to experience social nudity for the first time. Hence, the most common naturist activity is swimming (have a look at Wikipedia article on skinny dipping with some historical references).
While swimsuits are rather useless during water activities (unless we are talking about wetsuits in cold water), goggles or masks and fins are the only things that you need to wear if you want to see some aquatic life… but even that isn't necessary.
Well, we don't necessarily encourage free diving naked in the Arctic with beluga whales, like the researcher on the photo above, but snorkeling naked in warm waters is very pleasant, and having no swimsuit brings you a tad closer to feeling like a fish in water ;-)
And even if you're not as lucky as the guy from the video to have an elephant as his beach buddy, you may find it very rewarding to observe natural inhabitants of the underwater world (see our blog for numerous examples). Water is of course a very important element of nature, but why limit your naturist spirit on land only by beaches?
Try to walk through a forest without clothes,
and maybe you will feel it better, you will see more…
Especially if you don't only walk through the forest, but also climb up the trees, it's a truly wild experience!
You can also try rock-climbing, but then you should probably use some equipment…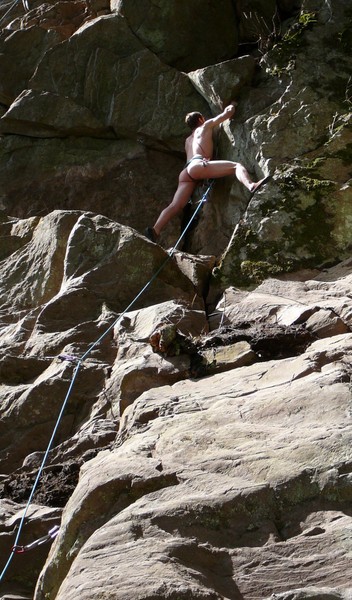 Similarly to free hiking, to explore wilderness or simply surroundings of the city, naturists go "canuding" (nude canoeing)
or kayaking.
The winter alternative is of course skiing. Yes, actually you can feel warm enough doing naked skiing
whether cross-country or downhill! yay!
And snowboarding too!
Just move to stay warm!
and be careful…
If skiing still seems too cold to perform in the buff, water-ski is probably a good alternative.
or how about jet ski?
And if snorkeling or water ski is not enough for you to feel that the water element is conquered, try it on a bigger scale – nude sailing is a popular way of getting in closer touch with the sea.
And if you want to feel free in the air like a bird try this:
Yes, naturists have conquered the air too :-)
Naked sky dive sounds like a great way to celebrate your birthday, I bet you'll feel reborn!
Or how about naked bungee jump?

Maybe together with your partner, if it looks too scary.
But besides being closer to nature, nudity may also bring you a feeling of being closer to your friends and other people, as it creates an atmosphere of openness and equality.
Sports is one of the best activities that manages bringing all kinds of people together. Then it should be only better to do sports without clothes; and besides, you will also feel more comfortable and free in your movement. Nude swimming can be not only a holiday activity, but also a competition,
like an annual international Swimming Gala organized by International Naturist Federation.
Actually, the Ancient Olympics and other sport activities in Ancient Greece were held in nude (look what Wikipedia says about nudity in sports and check out Richard Ackermann's photos of various nude sportsmen with relevance to ancient and modern Olympics). There are attempts to organize naked Olympics at Samurai Beach in Australia and Baker Beach in San Fracisco, USA.
And you can participate in some local or even international nude running races.
…or just go jogging with your mates or run into the sea.
Jumping in Ancient Olympics was performed in quite specific manner, but you will jump enough in many kinds of sports, so let's skip it for now and move to gymnastics. Gymnastics is just meant to be done nude, as its name comes from greek γυμνός (gymnós) – naked. And probably we should trust ancient Greeks when it comes to questions on when the body looks more effective. I wish there were more gymnasts in its original meaning like these tip-top gymnasts simply training (?) in the buff
And these are professional gymnasts, showing their best for the video 'Gymnastikos'.
Why should they cover up their perfect bodies in their perfect motions?
And this young gymnast perfoms jump into the water with three twists in truly naturist way: from a cliff into a river  Bravo!!!
And in a sweaty gym (gymnasium by the way has the same root, gymnos ;) you might fancy getting rid of the clothes as well…
to keep your eye on ALL muscles :)
Though working out in open-air seems far cooler.
Ancient Olympics included also wrestling and boxing,  of course naked as well. Contemporary box is done with less clothes than in most of other sports, and wrestlers have have very light and revealing clothes, so why do they cover at all? These guys got it right!
But if naked Olympics were to be held nowadays, I would suggest to add capoeira.
This martial art, often performed at brazilian beaches, would look only more beautiful whith players showing their bodies' strength at full not covered and not constrained by clothes.

And I think everyone will agree, if instead of throwing a discus we will just play frisbee :) Look at these scouts playing frisbee as a sort of rugby (ultimate frisbee).
Other popular sports that are often performed au naturel (look at sport section of British and Israeli Naturist Societies for example) include beach volleyball,
badminton,
ping-pong, squash, petanque, or even basketball
(also water basketball.)
But rugby is probably the most naked-friendly team sport. First, there is a whole culture of streaking, even represented when MTV Europe awards took place in Belfast, with a stark naked guy coming on stage for a couple of minutes. Then, the French rugby team releases a calendar (and making-of DVDs) "Dieux du Stade" (Gods of the Stadium) with their players naked. Members of English and Welsh teams posed nude too.
But most importantly, there are actually regular rugby matches that are played in the buff! Italian team Grifoni Rugby Oderzo played naked at a local stadium.
But most notably, the town Dunedin in New Zealand has a permanent team of rugby players that often play naked and even organize international competitions. They are called Nude Blacks (watch a brief report about them here), mocking nation's favorites All Blacks.
It all started with a naked rugby game at a local beach in 2002.
Since then, they have played with numerous international teams,
some of which didn't dare to get naked, e.g. the all-female team of 'Spanish Conquistadors', but others played the game fair = naked, such as English invitational team (see full match here)
and  'Vampirii Romani'.
Football (soccer) might be not as open towards nudity as rugby, but there are some encouraging videos.
Advantages of nudity in football are clearly seen from this video where one nude lady scores a goal against an entire team of tough but clothed men ;)
One legend (or ancient urban myth) says that nudity in Olympics became a tradition after one of the runners lost his clothes (another example of 'wardrobe malfunction') but continued running and won the race. Well, football players shall be encouraged by this example (you have to click to see the video).
These guys are already preparing for the nude World Cup at some naturist camp.
And here is a video of a naked football game on a beach, looks like fun.
and this is what can happen when the World Cup is done in nude.
Nude yoga is also getting more and more popular.
I think it is pretty obvious that all those stretching exercises are more convenient without clothes, whether at home alone,
or pretty much anywhere. 
Naked yoga for two sounds (and looks) good too.
Actually, naked yoga is not just a recent trend, but rather how it is supposed to be traditionally.
Well, we've already mentioned some sports where you use some gear for moving on snow and water above, such as ski, snowboard or water scooter, but of course you don't really need clothes to ride anything else either. The most 'natural' way is perhaps riding a horse not only bare but also bareback (without a saddle), as was practiced in the ancient world.
Nowadays you can experience it
at some naturist resorts (from Portugal to Namibia).
The next best thing is riding a bike naked; environment-friendly all the way. If you want to combine cycling with sightseeing, and in the naturist outfit,
there is no better way than doing the famous World Naked Bike Ride (WNBR). Skaters are also welcome btw.
The biggest World Naked Bike Ride takes place in London.
But many other cities are not far behind. Look at our report from the World Naked Bike Ride in Madrid, 2009, for example.
And coming back to the beach topic, try out wave-surfing naked as well. The native Hawaiian, who probably invented surfing, did it naked. When Mark Twain visited Hawaii in 1866 he wrote "In one place we came upon a large company of naked natives, of both sexes and all ages, amusing themselves with the national pastime of surfbathing."
Well, choose your style and catch the wave man!
There used to be even a naked contest in Sydney with some of the biggest names in wave-surfing.
Why don't they do it this way more often?
But you have a chance to see (or participate in) another naked surfing contest which still runs every year at Tambaba beach, Brazil:
Black's Beach in San Diego, California, also has its group of naked surfers. South Africa had its inaugural  Surf Naked competition too.
But if you're not ready for the big crowd, look for a secluded beach, like this couple did. Beautiful!
Or if there's no swell but it is windy enough, you could ride the waves using the power of wind.
After all these sport activities, it is so nice to get a full=naturist massage, so that the muscles relax again. 
Another good way of relaxation and bringing friends together after sports (or work) is of course sauna, which is traditionally clothes-free in countries where this culture originated (e.g., Russia, Finland, Japan and Korea).
Music and dance are also great at bringing together, and naturist gatherings usually attract some bands and DJs. But even some events that are not organized by naturists seem to be OK with nudity (very few though, so far). A very good example of that is of course Burning Man, that combines all kinds of arts and everything in between.
Although ballet and opera are not the first things that come to your mind when you think of naturist activities, nudity certainly may enhance the visual effect from the dancers, and modern dance performances are often enough at the edge of being clothes-free. This show, for example, finally have made the move!

(isn't dance a celebration of the beauty human body in movement?)
Performing music in wild (natural) conditions may give it a new twist: whether just for fun
or annual contest for the best water fay in Sweden. (see the video here)
Although music and dance parties appear more 'natural' outdoors,

there are also night clubs in Berlin and London, for example, and of course one could do it at home as well. Do you feel the vibe?
And check out this video from a naturist dance party, oh those Russians! 8) Despite not having a proper sound system, obviously there was so much innocent fun going on.
So overall, naturism is a healthy and fun style of life, if you can share it with some good friends and there are some nice places around, you will certainly have a lot of FUN!
http://www.dailymotion.com/video/k3wRyXtJMM53nh1fmTH
Leave us comments on what you like to do as a naturist